It's official: Anushka Sharma and Virat Kohli are married - The Express Tribune
---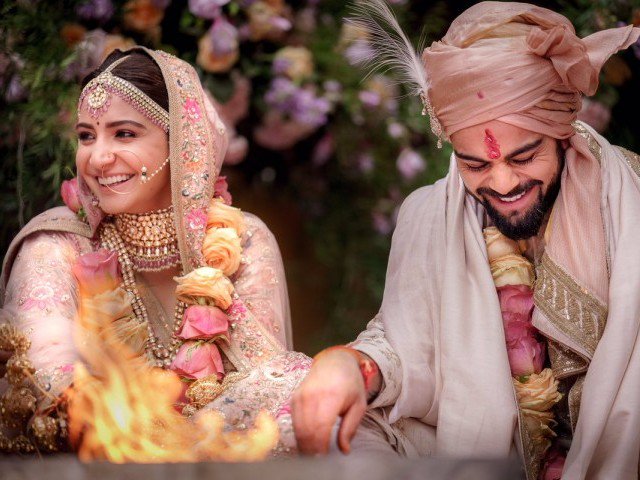 Anushka Sharma and Virat Kohli have been trending over several days now and news surrounding their matrimonial has been all the rage – and for good reason!
While netizens had been waiting anxiously to confirm the good tidings, a bevy of headlines took over the media regarding how the couple and their families had flown off to Italy – making rather one thing for certain that the two stars might just be secretly walking down the aisle of a majestic resort in Tuscany. And now the 'real' news has been set in stone, and out in the open, finally.
Following months of speculations, Bollywood star Anushka Sharma and Indian cricketer Virat Kohli have tied the knot in a private ceremony in Milan, Italy.
Today we have promised each other to be bound in love forever. We are truly blessed to share the news with you. This beautiful day will be made more special with the love and support of our family of fans & well wishers. Thank you for being such an important part of our journey. pic.twitter.com/Scobdiqk7l

— Anushka Sharma (@AnushkaSharma) December 11, 2017
Today we have promised each other to be bound in love for ever. We are truly blessed to share the news with you.This beautiful day will be made more special with the love and support of our family of fans & well wishers. Thank you for being such an important part of our journey. pic.twitter.com/aobTUwMNAK

— Virat Kohli (@imVkohli) December 11, 2017
Today we have promised each other to be bound in love for ever. We are truly blessed to share the news with you.This beautiful day will be made more special with the love and support of our family of fans & well wishers. Thank you for being such an important part of our journey. pic.twitter.com/aobTUwMNAK

— Virat Kohli (@imVkohli) December 11, 2017
Today we have promised each other to be bound in love for ever. We are truly blessed to share the news with you.This beautiful day will be made more special with the love and support of our family of fans & well wishers. Thank you for being such an important part of our journey. pic.twitter.com/aobTUwMNAK

— Virat Kohli (@imVkohli) December 11, 2017
Today we have promised each other to be bound in love for ever. We are truly blessed to share the news with you.This beautiful day will be made more special with the love and support of our family of fans & well wishers. Thank you for being such an important part of our journey. pic.twitter.com/aobTUwMNAK

— Virat Kohli (@imVkohli) December 11, 2017
....

Read full article here