Priya Prakash Varrier Went Viral With A Wink. 'Can't Believe It,' She Tweets
---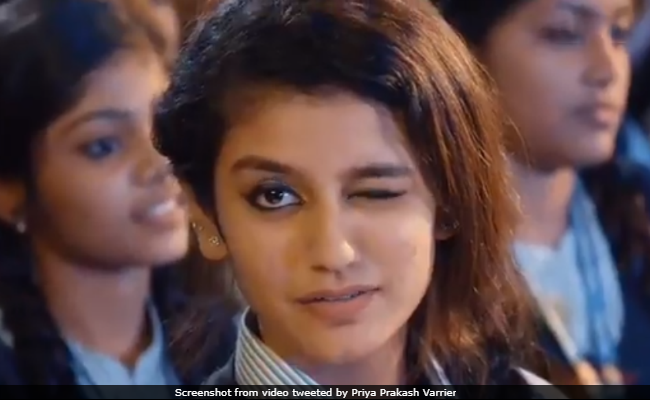 If you haven't heard of Priya Prakash Varrier yet, you might have at least seen her - over the weekend, a film clip of the young actress winking went insanely viral, prompting a tidal wave of memes. #PriyaPrakashVarrier has been trending on Twitter, acknowledged by the subject of the trend in a tweet from her as-yet unverified account (she appears to have only joined Twitter over the weekend). "Can't believe this," tweeted Priya, who makes her debut in , the film to which the clip - specifically, from a song titled Manikya Malaraya Poovi - in question belongs.
Thank you so much for the love and support for #ManikyaMalarayaPoovi#OruAdaarLove. 4.3 Million views for YouTube & counting, 600k+ for me going bigger in Instagram. #MondayMotivation #PriyaPrakashVarrier pic.twitter.com/vKLLQKiho2

— Priya Prakash Varrier (@ppriyavarrier) February 12, 2018
Priya turned into an overnight sensation when a teaser clip of Manikya Malaraya Poovi, from her upcoming film Oru Adaar Love, was shared on social media last week, sending the entire Internet into a meltdown. The clip shows Priya, dressed in school uniform, winking at a fellow student, who, like social media, is instantly floored.
Twitter was smitten, posting "Okay! India we need to talk #PriyaPrakashVarrier" and "Guys be like, 'I want the same wink with same expressions as return gift this session. Else forget about any melt from my side. #priyaprakashvarrier #newnationalcrush."
Take a look at some of the memes and jokes made on Priya Prakash Varrier:
#PriyaPrakashVarrier who did this? pic.twitter.com/Ak6SUbDSLg

— Winter is Coming (@IMinHangover) February 12, 2018
....

Read full article here