Jaylen Brown Gives Update After Scary Fall
---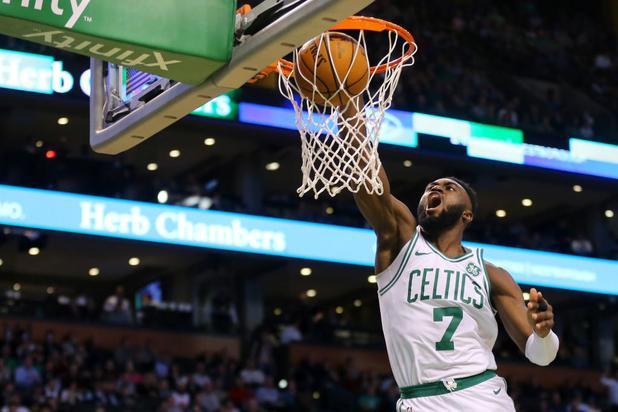 Brown says he's doing OK.
The Boston Celtics' Jaylen Brown was injured on a scary fall in last night's win over the Minnesota Timberwolves, but he says he's doing OK. Brown fell on his neck and head after a dunk late in the third quarter, and remained motionless on the court while a stretcher was wheeled onto the court.
Ultimately, the high-flying 21-year old was able to walk off the court under his own power.
Warning: The footage is graphic.
Terrifying scene as Jaylen Brown falls after dunk pic.twitter.com/HRQeGC0zjQ

— Rob Perez (@World_Wide_Wob) March 9, 2018
Brown was evaluated for concussion-like symptoms and obviously did not return to the game. Boston went on to win 117-109, although the main concern was the status of Brown.

"I was right there," Al Horford said, per Boston.com. "It was tough to see. I was just happy he was able to get up and walk off because that was one of the worst falls I've seen."

"It was a huge relief just because we were worried about Jaylen's health," Horford continued. "Just seeing him get up, it put us all at ease to continue to play the game. If he hadn't have gotten up, I don't know how that would've been for our group."

After the game, Brown took to twitter to say he was feeling OK, despite the headache. The Celtics, 46-20, have off until Sunday night when they'll host the Indiana Pacers at the TD Garden in Boston.

....

Read full article here