---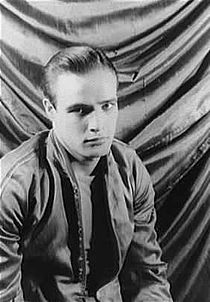 Marlon Brando is married
Anna Kashfi(m.1957; div. 1959)Movita Castaneda(m.1960; div. 1962)Tarita Teriipaia(m.1962; div. 1972)
Marlon Brando Complete Dating History
Bio:
Marlon Brando, Jr. was an American actor and film director. He is hailed for bringing a gripping realism to film acting, and is widely considered to be one of the greatest and most influential actors of all time. A cultural icon, Brando is most famous for his Academy Award-winning performances as Terry Malloy in On the Waterfront (1954) and Vito Corleone in The Godfather (1972), as well as influential performances in A Streetcar Named Desire (1951), Viva Zapata! (1952), Julius Caesar (1953), The Wild One (1953), Reflections in a Golden Eye (1967), Last Tango in Paris (1972) and Apocalypse Now (1979). Brando was also an activist, supporting many causes, notably the African-American Civil Rights Movement and various American Indian Movements.
Date of Birth:
Zodiac Sign:
Aries
Place of Birth:
Omaha, Nebraska, United States
Died:
80 years ago
Born Name:
Marlon Brando Jr.
Date of Death:
Parents:
Marlon Brando, Sr.

,

Dorothy Julia
Height:
5' 9" (175 cm)
Eyes Color:
Brown - Dark
Hair Color:
Brown - Dark
Religious believes:
Atheist
Sexuality:
Bisexual
Profession:
Actor
Other Professions:
Screen And Stage Actor.
Years Active:
1945 2001-present
Official Websites:
Marlonbrando.com, Art.com,
---
---